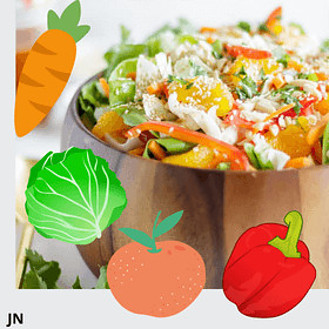 Fancy about making an Asian green salad for dinner tonight?
The good news is this salad is completely vegan and packed with lots of nutrients.
This is another quick and easy-to-make Chinese cabbage salad recipe with rice wine vinegar, and it's healthy and delicious.
What Are The Ingredients?
You'll need these ingredients,
* One cup of shredded carrots.
* One cup of shredded bell pepper.
* One cup of mandarin oranges.
* A small to medium-size of green cabbage (shredded).
* Black sesame seeds.
* Sea salt and black pepper to taste.
* Two teaspoons of sesame oil.
* A half cup of rice wine vinegar (unsweetened).
* A half cup of chopped almonds or peanuts (this is optional if you like).
Tips:
You can also add green Romaine lettuce if you like. I normally add it to the salad together.
Chopped fresh cilantro and sliced big onions are also options too.
The king here is the rice wine vinegar with a tangy taste which really makes this recipe with an Asian authentic flavor.
If you like the salad a little bit spicy, add the Sriracha spicy sauce.
How To Make It?
1. Put all the green plants and mandarin oranges into a large bowl and mix well.
2. In another bowl, for the dressings, mix well all the sesame oil, black sesame seeds, sea salt, black pepper, and rice wine vinegar.
3. Then, pour the dressings onto the green mixture and toss them well.
Add on top each serving with chopped peanuts or almonds.
There you go, ready to serve!
My Quick Nutritions Fact For This Recipe
This Chinese-style cabbage salad recipe takes about 20 – 25 minutes to prepare and is good for 6 – 7 servings.
Ok, let's find out some nutrition health facts you can gain from this recipe.
1. Rice wine vinegar is lesser in acidity (acetic acid) which improves your digestive health system by absorbing the nutrients of food easily. Besides, this vinegar helps to fight bacteria thanks to its antiseptic components, boosts the immune system, and a healthy heart because of the richness in amino acids.
A tablespoon of rice wine vinegar (15g) gives you Calories 2.7, Sodium 0.3mg, Potassium 0.3mg, and Cholesterol 0mg.
2. Black sesame seeds are good sources of Fiber, Calcium, and Vitamin B. It may also help in controlling blood pressure, cholesterol, healthy heart, and stronger bones, and may aid in reducing inflammation.
One tablespoon (9g) of black sesame seeds gives you Calories 52, Protein 1.6g, Carbs 2.1g, Fiber 1.1g, and Calcium 88mg. For more info on the nutrients, check with the USDA Food Data Central.
3. Mandarin oranges (mandarines) are great sources of vitamins, minerals, and antioxidants.
These citrus fruit groups are essential sources of beta-carotene and antioxidants vital for preventing diseases such as cancer. They are also a good source of soluble fiber helping to reduce the bad LDL cholesterol.
One cup (195g) of mandarin oranges gives you Calories 103, Protein 1.6g, Carbs 26g, Fiber 3.5g, Calcium 72mg, Beta carotene 302ug. For more info on the nutrients, check with the USDA Food Data Central.
This is it, great nutrients values, isn't it?
Go to the grocery now and try to make one for the whole family later.
If you have any questions, let me know in your comment below and I will be back within 24 hours.
Have A Wonderful Workout At Home!
***This post may contain affiliate links or advertisements. I receive a small commission when you make a purchase using the links. Prices are exactly the same for you if your purchase is through an affiliate link or a non-affiliate link. You will not pay more by clicking through the link. Please see my Affiliate Disclaimer for more details.