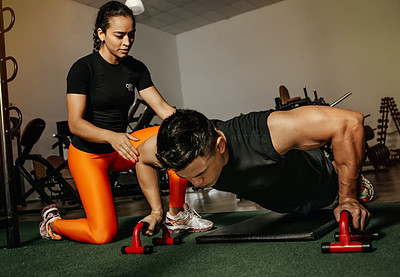 People may consider getting a Personal Trainer (PT) especially if they are new to fitness.
Getting in shape, a weight loss journey, or learning and enhancing more fitness tips and techniques could be some of the reasons why they are thinking of hiring a PT.
Is there a need to look for a Personal Trainer to start working out?
Probably yes and no!
What Does A Personal Trainer Actually Do?
An experienced and well-qualified trainer doesn't just work out the entire day teaching and monitoring their clients, on a group or one-to-one basis.
They just don't do that only!
Giving valuable feedback, motivation, education, create a workout plan for their clients are some of the tasks they need to do. They also work with their clients to find effective solutions to improve their fitness goals and plan a healthy nutrition diet.
Because of this, some of the PTs just don't have their own time to work out on their own at the gym.
Is It Effective Hiring A Personal Trainer Or Training On Your Own?
That also depends on whether you are a complete newbie or not.
For example, if you have no experience in operating fitness equipment or lifting weights correctly, you should get a trainer to monitor and teach you.
Working out at home or the gym needs constant motivation and great discipline. Unless you have these self qualities in you, you might need a good PT to walk you through the journey. They are trained to be good fitness motivators.
The trainer can give you some feedback on your workout to readjust or make room for improvement. If you are on your own, nobody will be there to give feedback or watch on you.
If you feel that you can handle the fitness training on your own, safely and effectively, then you don't need a personal trainer.
---
Is There A Need To Look For A Personal Trainer?
Plenty of reasons why some individuals need help from a certified and qualified personal trainer.
1. No idea where to begin. If you are a complete newbie in the fitness world, you must be wondering how to begin. You just don't want to waste time doing all types of training and in the end, what a pity, it is not what you had ever wanted to achieve.
An experienced PT knows exactly what to do to help you. He/She has a few different fitness programs such as weight or flexibility training, and cardio workout. They can suggest which activity is the best fit for your busy life schedule. The workout should be based on the intensity, time length, frequency, and type of workout.
2. Learn to exercise on your own. If you are planning to work out on your own at home or at the gym later, you may want their guidance. For example, new to the exercise machines or have no clues about how to lift weights correctly, for safety sake, you just don't want to risk getting an injury.
A good personal trainer teaches about each muscle and how it works, shares correct targeted muscle workouts, provides great support during or after a workout, shows you the correct form of workouts, and teaches you the right way how to lift weights.
3. Support and supervise. Sometimes we just need support and be supervised even if we are into weeks or months of working out. We need a workout buddy, motivation, or to keep a spot on you while lifting heavyweights.
4. Good result not expected. You are not seeing positive results in your fitness training, even though you are working out consistently and regularly.
An experienced trainer can re-evaluate your current fitness program to see what can be adjusted or improved to reach your fitness goals more effectively. He/She will again analyze your goals to see if they are realistic or not.
The trainer will keep you stay motivated again by pushing your workout harder since there is a person there to challenge and cheer you up.
5. Trying new workouts. Even if you are an experienced exerciser but sometimes you just want to try a new variety of workouts. You don't want to stick with the same workouts throughout the entire year. You need a fresh perspective on workouts to challenge your body and mind.
The PT will ensure that some areas of your program will be more challenging, fun, and interesting.
6. Workout at home. For convenience and privacy sake, some people just like the idea of working out at home as it is more convenient and they are just not into gym scenes.
A personal trainer can also recommend and teach you correctly which equipment for your home workout you can learn towards your fitness goals journey.
7. Specific injury, illness, or conditions. Some people need a qualified trainer because of their specific health conditions or injury that required them to perform some exercises. This is when the trainer will come into the picture.
The specified trainer can help to tailor a suitable fitness plan or program for whatever health situation they are currently in, and possibly they also need to work together with your doctor or physician to find out more.
---
What Can Annoy Or Upset Your Personal Trainer?
A personal trainer is there to share their fitness, healthy eating knowledge, and expertise with you.
Some people on a weight loss journey tend to think that PTs got the magic slimming pills to help them.
When you sign up and pay for a personal trainer service, you don't show up for the classes or training regularly, and expect to get the super perfect result! How annoying is that!
After your fitness session with the PT, you eat like usual thinking that's OK, I'd already had a good trainer helping me out, and that's fine. Hell NO, you are what you eat, you are the one who is supposed to work out regularly with a healthy diet plan, not the PT! So, you are lacking self-effort here.
You blamed the PT because you are not getting a good result from his/her program. Hello, have you ever thought about what's wrong on your end? Did you make an effort to change your lifestyle, adjusting the diet and workouts at all?
How Many Personal Training Sessions You Should Need? 
Before considering getting a personal trainer, you need to understand your level of fitness and what are you trying to achieve in the short or long term.
Ask yourself these few basic questions first. For acquiring new or enhancing fitness skills? Weight loss? Overall body fitness? What is that that you wish to accomplish in the training sessions?
With the information have with you, discuss with your PT who will prepare a suitable fitness program with no. of sessions for you. If cost is also a factor here, let the PT know how to help you save and at the same time maximize your workout routines more effectively.
Is once a week enough with a personal trainer?
Depending on your fitness goal and experience again, it should be around 3 times a week plus follow the guidelines and advice from your PT about proper form and nutrition plans.
Some people worked out only for an hour a week but they managed to make superb progress because they followed very well what their PT had told them to do. So, it is also about how you managed a workout program wisely.
Can you stick with a personal trainer for a year?
It is entirely up to you. Most qualified personal trainers will aim to train their clients to a stage where they can work out on their own independently at their homes later.
However, some people do prefer to have their PT with them throughout for many reasons, they need a motivator with them, to spot and check on them, or to have a new routine along the way.
How much can a personal trainer charge per session to come to your home? 
Your location, the type of training (group or personal one-to-one) needed, and the number and length (30, 60, or 90 minutes) of training, all are cost factors for a personal trainer.
The average cost is around the range of US $50 – 60 per hour. A true certified trainer with NSCA-CPT or NSCA-CSCS accreditation may offer a higher-end rate at about US $100 per hour but it is worth it though as they are really qualified trainers to train with you at home.
For more information on accreditation, visit the Institute for Credential Excellence, the US Registry of Exercise Professionals.
---
Will You Lose Weight Hiring A Personal Trainer?
A personal trainer may or may not fully help you for losing weight.
Normally, to lose weight, you need to balance your workout and proper healthy nutrition diet plan so you can achieve your goal within the set time frame. Plus, your consistency and persistence efforts to make it happen.
However, if you feel that working out alone didn't give the best result you wanted, that could be something not right there.
You may not be doing the proper form or the nutrition diet plan is not correct. Thus, you may consider having accountability and an expert trainer to guide and restrategize back your current training.
The good news is you can lose weight without them but you can also need them for more expert and strategy guides for weight loss goals.
Its entirety depends on you again!
Can A Personal Trainer 'Hit' On You?
Shhhh!!!
This subject is kind of sensitive to some people I think lol.
Note that not all personal trainers can or will hit on you for whatever reasons. I'm not judging them in any way (you shouldn't too) but sometimes, romance can spark between the PT and their client. I called it fate.
I often heard some sparking stories at the gym that I frequented before. A girlfriend gym mate of mine said she was in a short relationship (a few quick years) with her first-time trainer at the gym. It's just a spark that happened like that.
Whether who made the first move, I have no intention to ask further lol.
The point here is the 'hit' can happen at the gym when the chemistry strikes!
Nah, don't get too excited now, just focus on your training with your PT! Nothing else!
My Conclusion: Is There A Need To Look For A Personal Trainer?
A personal trainer can be a wealth of fitness knowledge to some newbie trainers.
They can offer an overall good perspective to help you to improve your personal health and achieve the best workout result that you wanted.
You should get one especially if you are very new to any fitness training. The very first training session with your PT should focus on a discussion about your current fitness level, diet plan, and goals.
Be sure the personal trainer you are going to hire, he/she must be really qualified, certified, and experienced. They should know some basic and updated records of CPR or first aid.
A good personal trainer also has to be a good listener, keep track of your fitness progress, always pay attention when you are working out and can address your specific medical conditions or past injury (if you have) with your doctor.
In the end, it is your own responsibility towards your fitness goals whether to make it work or not!
If you have any comments, leave them below and I will rush back within 24 hours.
Have a safe home workout!
***This post may contain affiliate links or advertisements. I receive a small commission when you make a purchase using the links. Prices are the same for you if your purchase is through an affiliate link or a non-affiliate link. You will not pay more by clicking through the link. Please see my Affiliate Disclaimer for more details.