Let's make another healthy smoothie for this week.
How about a metabolism-boosting blueberry watermelon smoothie?
Combining fresh fruits, veggies, and chia seeds, this smoothie is a must-try.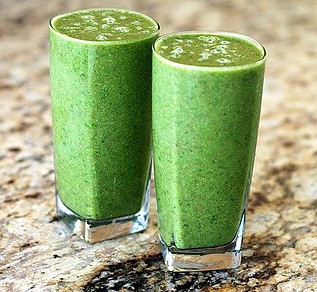 What Are The Ingredients?
You will need to get the following ingredients,
* Three-quarter cup of fresh blueberries (you can use raspberries, strawberries are fine).
* A half-cup of fresh watermelon.
* A quarter cup of fresh cucumber cut into thin slices.
* Half cup of fresh grapes.
* Two cups of fresh spinach.
* A quarter cup of almond milk.
* One tablespoon EACH of chia seeds and hemp seeds.
* 3 – 4 cubed ice.
Get ready for your blender now!
How Do You Make It?
1. First, add all the ingredients, including the spinach and cucumber into a blender.
2. Blend it until the mixture become liquid.
3. Then, add the berries, watermelon, ice cubes, together into the mixture.
4. Blend it well again until smooth. Pour into a glass and ready to drink.
Tips:
* Ideally, stir well the chia and hemp seeds with water and soak overnight first.
* Instead of the chia and hemp seeds, you can use plain or Greek yogurt too.
* Banana will be a good choice too instead of watermelon.
* This recipe is for 1 portion serving.
My Quick Nutrition Facts For This Recipe
What is the potential health nutrition in this recipe besides boosting the metabolism?
* Berries are super healthy munchy fruits. They can help in,
Manage diabetes, thank its compound called anthocyanidins.
Sharpen your mind.
Preventing Parkinson's disease, thank the abundance of flavonoids content.
Reduce inflammation and risk of heart diseases.
Lower the blood pressure by enhancing the blood vessel's functions.
Fighting the infections of the urinary tract.
For example, blueberries have a high level of anti-oxidant content that protects your body cells from those harmful radicals roaming inside your body. It also helps to prevent heart disease, regulate your blood sugar, and fight against urinary tract infections.
A cup (148g) of blueberries gives you Protein 1.1g, Calories 84, Carbs 22g, Fiber 3.6g, Calcium 8.9mg. Source data from the USDA  
* Chia seeds help to keep your bones strong due to its high contents of Magnesium, Calcium, and Phosphorus that are needed for bones strength. Also, help your brain function better and improve cognition, and keep the heart healthy by lowering blood pressure.
A portion of 100g serving gives you Protein 16g, Calories 486, Carbs 42g, Fiber 34.4g, high Phosphorus 860mg. Source data from the USDA.
* Spinach are green plants loaded with antioxidants and tonnes of nutrients.
Putting spinach in your regular diet may help to improve eyes sights, prevent potential cancer, reduce your stress, improve digestion, prevent constipation(#Ad), and control blood pressures level.
A cup (30g) of raw spinach contents are Water 27g, Calories 7, Protein 0.9g, Carbs 1.1g, Fiber 0.7g, and high potassium 167mg. Source data from the USDA.
* Grapes are good sources of Calcium, Fiber, Potassium, vitamins, and minerals. The nutrients in these fruits can help to prevent cancer, controlling high blood sugar levels, and diabetes. The key nutrient in grapes called Resveratrol is believed to be helpful in fighting osteoporosis.
A cup (92g) of fresh American grapes contains Calories 62, Protein 0.6g, Carbs 16g, Calcium 13mg, high Potassium 176mg.
Source data from the USDA.
* Watermelon has tremendous health benefits on top of aiding weight loss. It helps to manage heart health, diabetes, fight free radicals, and is a great source of water and energy.
A cup of diced watermelon contains Water 139g, Calories 46, Protein 0.9g, Carbs 12g, Calcium 10mg. Source data from the USDA.
Make this delicious smoothie and enjoy it after a morning home workout!
Let me know in your comment below and I will speed back within 24 hours.
Have An Awesome Home Workout!
***This post may contain affiliate links or advertisements. As an Amazon Associate, I earn from qualifying purchases. I receive a small commission when you make a purchase using the links. Prices are exactly the same for you if your purchase is through an affiliate link or a non-affiliate link. You will not pay more by clicking through to the link. Please see my Affiliate Disclaimer for more details.