Do you or the kids like pudding?
Sure they do, LOL.
Have you ever try to make healthy and yummy pudding using Chia seeds?
Why not, let's try this super easy and simple Chia pudding from your kitchen.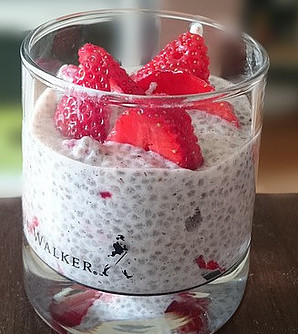 What Are The Ingredients?
You just need these few simple ingredients to start with.
There are,
*Half cup of low-fat milk.
*Two tablespoons of Chia seeds.
Ideally, stir well with water and soak overnight first. The ratio of Chia seeds to water ( 1 – 8 )
*One teaspoon of natural honey.
*Berries like raspberries, blueberries or other fruits like kiwifruit is just fine. Your own choices.
Now get ready with a jar.
How Do You Prepare It?
1. Put all the ingredients except the fruits into a jar. Mix them well.
2. Leave aside for about three minutes. Then, mix it well again or until there are no more clumps.
3. Set it aside in the fridge for three hours or better still, leave it overnight.
4. When it is ready to serve, just add the fruits as topping onto it.
Serve while it is still cold!
More recipe (SOURCE)
My Quick Health Benefits Facts For This Recipe
This is a great healthy snack or breakfast and riches in nutrients too.
What could be the nutritions benefits?

* Chia seeds help to keep your bones strong due to their high contents of magnesium, calcium, and phosphorus that are needed for bones strength.
Also, help your brain function better and improve cognition (#Ad), and keep the heart healthy by lowering blood pressure.
A portion of 100g per serving gives many nutrients, source data USDA.
* Berries are super healthy munchy fruits. They can help in,
Manage diabetes, thank its compound called anthocyanidins.
Sharpen your mind.
Preventing Parkinson's disease, thank the abundance of flavonoids content.
Reduce inflammation and risk of heart diseases.
Lower the blood pressure by enhancing the blood vessel's functions.
Fighting the infections of the urinary tract.
For example, blueberries have a high level of anti-oxidant content that protects your body cells from those harmful radicals roaming inside your body. It also helps to prevent heart disease, regulate your blood sugar (#Ad) fight against urinary tract infections.
So, try to make one Chia pudding over this weekend after you got to know these two health benefits.
Sure your kids will gonna love this as snacks too.
Let me know in your comment below and will reply back within 24 hours.
Happy Exercise At Home!
***This post may contain affiliate links. As an Amazon Associate, I earn from qualifying purchases. I receive a small commission when you make a purchase using the links. Prices are exactly the same for you if your purchase is through an affiliate link or a non-affiliate link. You will not pay more by clicking through to the link. Please see my Affiliate Disclaimer for more details.