Aerial yoga is slightly a bit different than the traditional yoga practice.
Also called anti-gravity or suspension yoga where your body weight is supported by a silk hammock and you have suspended in the mid-air.
How can you safely do aerial yoga at home? What is the equipment you need to start?
We will find out more.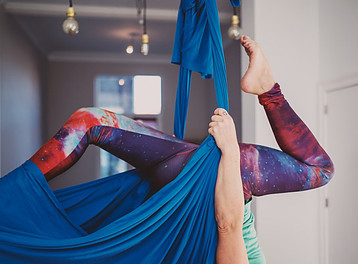 What Are The Benefits Of Doing Aerial Yoga?
One of the great benefits like any other exercise is that aerial yoga can help you to lose weight.
Imagine balancing yourself hard as you change position while suspending in the air required a lot of strength and stamina. This will result in burning calories. Studies from the American Council of Exercise (ACE) found that 50 sessions of aerial yoga workouts can burn up to 320 calories – almost the same as fast walking!
Like traditional ground yoga, practicing aerial yoga helps to control the breath deeply and improve lung capacity in long run. It allows you to relax and perform many poses comfortably.
It is considered a stress reliever, giving a practitioner peace of mind, and improving focus and balance. While hanging in an upside-down position allows the oxygen to flow into the brain and flush out more toxins from the body.
Aerial yoga is also good for back pain problems and gives a full-body workout without giving too much stress or pressure to the joints and spinal cord.
Your flexibility and mobility (such as pulling strength) are improved by stretching the tendon and muscles while hanging up in mid-air with the hammock.
How Can You Safely Do Aerial Yoga At Home?
There are also Dos and Don'ts before you can start aerial yoga at home.
If you are a beginner eager to start practicing, learn about some safety precautions first.
1. Never start alone. You need to learn at least some basic movements and techniques at any yoga studio or get a private qualified yoga instructor (who can also be your spotter to watch your yoga movements) to teach you at home. Safety comes first or the risk of injuring yourself. Simple as that!
2. Space of your home should be enough for easy movement. It is recommended the yoga swing location's height should be at least 9ft (3m) and 6ft (2m) wide. The space amount should be ample so you can perform any move safely without any object distractions around.
3. If you have some experience with yoga on the ground, then adjusting these asanas in the mid-air is fine but still, do NOT jump to conclusions too fast. Suspended in mid-air with aerial yoga is a very different practice than on the ground.
Learn the basic simpler poses first for the body and muscles to get adapt to all these poses. Never attempt to jump straight into more complicated poses as the risk of injury is HUGE!
4. NO body lotions on your body prior to starting swinging in the air. The moisturizer can cause your grip to lose balance and slippage. Just apply it after showering when your aerial yoga session has ended.
With all the above taken into serious consideration, you can safely start your journey to master the beauty of the yoga asanas through aerial yoga swing.
---
What's The Equipment Do You Need For DIY Aerial Yoga?
The good thing is aerial yoga equipment is pretty easy to find and install.
You literally do not need any special equipment to set up. Like pole dancing, a proper installation is still vital to ensure safety at all times.
1. Good solid metal rigging/hooks to hang on the beam in the ceiling. If you are not an expert in rigging or hooking, better get help from a professional to install them properly. You will rest assured to enjoy your swing with ease of mind.
2. Yoga hammock (or yoga swing) is a full set of aerial skills designed to get you suspended from the ceiling. You can choose many sizes, colors, and support handles.
3. Freestand aerial rig. If you like to do aerial yoga in a non-fixed location, try the freestanding aerial rig which is a large 'A' shape metal frame, height-adjustable, and versatile for uses indoors and outdoors.
4. Gym floor mat or crash mat. This is also important equipment to consider especially for newcomers which acts as a cushion in case you slipped and fell down to the floor.
How to set up an aerial yoga hammock at home? 
If you think that you can set the hammock perfectly, follow these few simple guidelines.
1. Rig the hammock according to your own preference and height.
2. Stand in front of the hammock when hanging to the rig point.
3. When hung naturally, the hammock's base should be around the waist height.
4. Pull down the hammock's base using both hands and it should sit square in width at hip height.
5. If the hammock is too low, adjust the rigging to make the hammock shorter, so in case you are in an upside-down position, your body is still above the ground.
Tip: The type of fabric for a good hammock for aerial yoga is nylon tricot with 40 deniers; very durable and soft, can support weight up to 2,000lbs, low stretch fabric, mostly breathable and waterproof too.
---
Is Aerial Yoga Really Suitable For Beginners?
Yes, it should be, any age above 18 years old are worth trying this workout. However, you do need an instructor to supervise if you are a complete beginner.
Aerial yoga is also one of the best and most trendy workouts to do at home too. The moment you are lifted off the ground, you are working on your core strength.
According to the ACE, aerial yoga is also categorized as cardio full-body workouts. Studies from ACE showed that aerial yoga help in overall strength building (especially the arms and shoulders), increased muscles, and decreased fat mass.
If this is a low-impact workout even if you are having knee problems, will you do it? Sure yes, this zero-impact workout is not stressful and very gentle to the joints.
At the end of a swing side-to-side session in a hammock, you will feel happier, have less pressure on your body, and cool down (savasana pose).
Try it now if you think you are ready!
Which One Is Actually Better – Aerial Yoga Or Regular Yoga?
Personally, I think no one is better than the other here. All works very well in its own unique postures and moves.
Aerial yoga such as regular yoga works perfectly well in improving your breathing, postures, flexibility, mental and concentration.
The only difference as you know is that aerial yoga is working hard once you got lifted up in the mid-air. Your body will feel the support in reverse and backbend poses.
If a yoga practitioner has good exposure to ground yoga, aerial yoga is going to give a whole new challenge of postures for better flexibility and alignment. For a beginner, aerial yoga is helping them to learn and practice basic postures as they slowly gain more strength.
You will also build more pulling strength in aerial yoga poses compared to classic yoga which seems lacking.
---
My Overall Thoughts: How Can You Safely Do Aerial Yoga At Home
Aerial yoga is a yoga practice that combined classic yoga and modern Pilates exercises using a soft silk hammock to support the poses.
If perform correctly is good for the core and upper body strength and balance, and help to relieve compression in the spine, thus reducing back pain problem.
The best part is the reverse position upside down with a hammock allows the blood to channel more oxygen to the brain to function better.
Speak with a certified yoga instructor about a (#Ad)suitable yoga starter program.
Leave me a comment below if you have and I will hit back within 24 hours.
Have A Fantastic Workout At Home!
***This post may contain affiliate links or advertisements. I receive a small commission when you make a purchase using the links. Prices are the same for you if your purchase is through an affiliate link or a non-affiliate link. You will not pay more by clicking through the link. Please see my Affiliate Disclaimer for more details.