How to make a healthy weight loss vegetable soup at home?
The ingredients mostly consist of green plant-based veggies and are suitable for vegans too.
This delicious healthy weight-loss vegetable soup should serve to 8 people.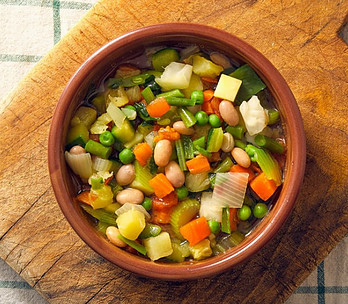 What Are The Ingredients?
Get ready with these ingredients and it should take about 45 minutes in preparation and cooking time.
* Two cloves of minced fresh garlic.
* One medium to large size chopped onion.
* Two medium-size chopped carrots.
* Two stalks of fresh chopped celery.
* Two medium-size chopped zucchini.
* 4 – 5 chopped baby tomatoes (or you called them Roma tomatoes).
* 4 cups of finely chopped kale.
* 12 oz of fresh green beans.
* 15 oz or about 2 cans of white beans, rinsed well.
* Two tablespoons of extra virgin olive oil.
* Two teaspoons of (#Ad)red wine vinegar.
* Eight teaspoons of ready-made pesto sauce.
* Half teaspoon of ground pepper.
* Kosher salt or sea salt to taste.
* Eight cups of low-sodium veggie broth.
Note: 
The green veggies can be chopped into tiny cubes and the green beans are cut into half-inch pieces.
You can also use low-sodium cannellini beans too.
If you don't have pesto sauce, you can just substitute it with parsley flakes is fine.
You can also replace the veggie broth with chicken broth too.
How Do You Make It?
1. In a large pot or casserole pot, heat up on medium heat with olive oil.
2. Add the carrots, celery, green beans, and garlic and stir it well for about 10 minutes or until it begins to get soften.
3. Put the broth into the mixture and bring it to a boil. Let it simmer slowly with low heat until the veggies are softened (or about 10 minutes of cooking).
4. Add the remainder of the ingredients into the pot and stir it well.
5. Simmer again for about 10 minutes until the kale and zucchini are softened completely.
6. Add a teaspoon of pesto sauce on top of each serving of soup.
Serve it while hot.
My Quick Health Nutrition Facts For This Recipe
There you have it, another not-so-quick (but it's ok) and healthy weight loss vegetable soup recipe for the coming cold season.
Let's find out more nutrition values from this recipe that could benefit your health.
1. Kale is a green leafy veggie that gives you a range of health benefits. Great source of Calcium, Fiber, Vitamin C and K, Antioxidants, and many more. This leaf helps with blood pressure, digestive health, and fighting against diabetes and cancer.
A cup (118g) of cooked kale give you Calcium 177mg, Magnesium, Potassium, Sodium, Vitamin C, and Folate. For more nutrient facts, USDA Food Data Central.
2. Celery (I loved to eat it as snacks) is a marshland plant and low-calorie diet food, a great source of at least 12 types of antioxidants (per stalk) in preventing inflammation. Contains a good source of Vitamin A, C, K, Potassium, Folate, and Flavonoids, is high in fiber and water, and very low in glycemic index (for steady blood sugar effect)
A medium-sized stalk of celery gives you Water 38g, Fiber 0.6g, Calorie 5.6, Potassium 104mg, Vitamin C 1.24mg, and Carbs 1.2g. For more nutrient facts, visit the USDA Food Data Central.
3. Zucchini or courgette is another green fruit with lots of vitamins, minerals, and nutrient compounds. Also, riches in antioxidants, beta carotene, and carotenoids help to protect our body and skin from free radicals and certain types of cancer. Its skin especially has the highest level of antioxidants.
A medium-sized zucchini gives you a very high amount of water 186g, Fiber 2g, Calcium 31mg, high Potassium 512mg, Phosphorus 75mg, and 35mg of Vitamin C. For more nutrient facts, visit the USDA Food Data Central.
4. Green beans are the staple food in the kitchen and contain zero cholesterol. Good sources of multivitamins and minerals, protein, fiber, Vitamin A, C, K, Iron, and many more. It helps for healthy digestion, a stronger immune system, a healthy heart, and vision.
100g serving of cooked green beans gives you low calories 35, Carbs 7.9g, Fiber 3g, Calcium 44mg, Potassium 146mg, 97mg of Vitamin C, 633 IU of Vitamin A. For more nutrient facts, visit the USDA Food Data Central.
5. Kosher salt is very low in cholesterol and saturated fats. Mainly consist of sodium chloride. Some potential health benefits are promoting healthy digestion, oral health, and reducing high blood pressure. One teaspoon (3g) of kosher salt contains about 1,120 mg of Sodium.
A 1.5g of kosher salt contains zero Fats and Calories, Cholesterol, Carbohydrates, Proteins, Vitamin D, and minerals (Potassium, Calcium, Iron).
What are you waiting for then?
Get to the grocery and start making this recipe later this evening. Use this recipe as part of your weight loss plan.
If you have any comments, leave them below and I will be back within 24 hours.
Have an awesome home workout!
***This post may contain affiliate links or advertisements. I receive a small commission when you make a purchase using the links. Prices are the same for you if your purchase is through an affiliate link or a non-affiliate link. You will not pay more by clicking through the link. Please see my Affiliate Disclaimer for more details.