This is another super weight loss supplement available on the market now.
Java Burn's maker claimed to help users melt the extra pounds quickly without much exercise or a strict diet plan.
How true are these claims?
Let's find out more in-depth through the Java Burn 'fat burner' supplement reviews.
---
Product Name: Java Burn 
Type of Supplement: Metabolism Booster Coffee Dietary Supplement
Health Benefits: Claimed to help in weight loss with no intense exercises or strict diet plan
Owner: John Barban
No.of packs per box:  30, good for 30 days supply.
Recommended usage:  1 pack easily dissolves in a cup of hot coffee every morning.
Price (per box): $49.00 x 1;  $39.00 x 3 ($117.00); $34.00 x 6 ($204.00). Shipping is not included yet.
Side Effects: No major side effects have been reported.
Official Website: (#Ad)www.javaburn.com
What Is Java Burn Metabolism Booster Coffee Supplement?
According to the website, the maker had claimed that Java Burn is the first and only patented 'pending' natural formula that can increase the speed and efficiency of metabolism when combined with coffee.
Java Burn supplement powder is tasteless and instantly dissolves once mixed with hot coffee. It is gluten-free, with no fillers, preservatives, artificial coloring, or stimulants.
As the makers said,
There's never been anything even close to Java Burn ever attempted. As for myself, my team, my entire family…
And tens of thousands of everyday women and men can attest…Electrifying your metabolism…
Torching off fat from your problem areas…Enjoying incredible all-day energy…
Reducing hunger…And improving your health…
That's quite a straightforward claim hinting Java Burn formulas are bound to improve your overall health and metabolism.
Is Java Burn work with other beverages too?
Maker had advised that Java Burn is effective to be taken together with coffee because the patented 100% natural ingredients are designed in such ways to boost the metabolism speed in the fat-burning process. 

What Are The Main Ingredients Of Java Burn?
There are a few main ingredients that make up the Java Burn formulas.
1. Green tea leaf extract (300mg) is used from this epigallocatechin gallate (EGCG) found in green tea leaves. To numerous studies, it is widely considered one of the best ingredients for weight loss.
Besides, green tea extract is riches in antioxidants to fight inflammation and free radicals, help to remove toxins, and waste materials, and supply important vitamins and minerals inside the body.
2. Green coffee bean extract (200mg) act as an enhancer booster to burn more stubborn fat. The key here is the chlorogenic acid nutrient content help in supporting the weight loss effects.
3. L-theanine (100mg) helps to improve the cognition in the fat burning process and calming effects in the Java Burn formulas. Besides, this compound has the ability to promote mental relaxation too.
It also helps to prevent anxiety and gives you the overall well-being of the mind, thus improving brain functions and sleep quality.
4. L-carnitine (100mg). Studies have shown that this compound is effective in aiding in weight loss. It is actually amino acids vital for building muscle fibers and can be found in weightlifting or weight loss supplements.
The maker claimed you do not need any intense workouts or dieting as this compound will help for losing weight!
5. Chromium (20mcg) is another element that is helpful for weight loss. It is involved in the lipid, glucose, and carbohydrates metabolism process. This mineral is able to trigger the insulin hormone in the bloodstream to track and reduce any increase of BGC (blood glucose curves) inside the blood tissues.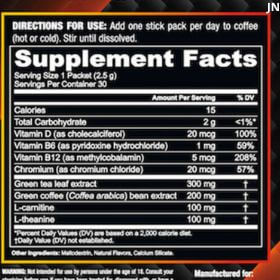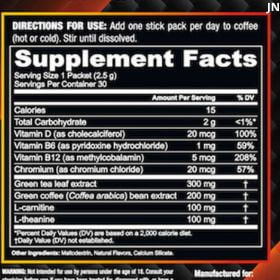 Does Java Burn contain caffeine components?
Caffeine is one of the most proven ingredients for weight loss by rocketing up the metabolism process naturally. Studies have found that caffeine can increase the RMR(resting metabolism rate) by 11% (1), and help obese people to burn fats by 10% (2),
According to the maker, caffeine is one of the main ingredients and contains in 'balanced amount' in each Java Burn packet.
It helps reduce (#Ad)blood sugar and cholesterol levels through metabolizing. This referred to how and what we need to fight obesity issues.
Besides, caffeine aids in improving a person's clarity and focus by increasing all activities in the brain. However, overdosage of caffeine is also not healthy for the brain in long term – could lead to anxiety and (#Ad)insomnia.
Other ingredients such as Vitamin B6 & B12, and Vitamin D are also part of the components ingredient in making Java Burn.
How Does Java Burn Actually Work Inside Your Body?
According to the makers' claims, the moment Java Burn formulas enter inside your body, it will start to work hard on the metabolism level and make you lose weight naturally.
Metabolism as you know is a process of converting food into energy, which is in charge of functioning the body. It controls the calories in your daily activities such as working out, sleeping, or walking.
When your metabolism level is fast, your body will burn more calories during your regular activities. If it is slow, then your body will find it difficult to burn calories. This will result in the extra fats stored inside the body such as on the belly or thighs.
Java Burn powdered formulas work exactly how to maximize and boost the metabolism level inside your body to help you with your weight loss journey.
How long does it take for the Java Burn diet to work?
Depending on each individual, the website suggested continuing to consume Java Burn daily for at least 90 – 180 days for maximum results. So, new users should take advantage of the 90 or 180 days supply package great deal offer (while stocks last).
How much weight I can lose with Java Burn?
Its official website does say it is possible to lose as much weight as possible by just drinking this amazing healthy coffee product. There are many success stories of its thousands of happy users claiming to have shed off the pounds successfully.
However, these claims may have not been proven by science on it authenticity of the formulas in helping to lose weight.
What Are The Pros As Claimed By Java Burn?
Java Burn product is Non-GMO, 100% all-natural made ingredients, vegetarian, and safe to consume.
I also found that there are 43 scientific reference data (a lot of data!) or comprehensive reports on its website to back up its claims.
This product does contain only a few ingredients, unlike other fat-burning supplement products on the market.
Besides, with its 60-day full refund policy where you can request a complete 100% refund within two months from your original purchase date, no questions asked policy, which I guessed is generous too.
The original Java Burn supplement is ONLY available from its (#Ad)official website. NOT sold at any retail or pharmacy stores, online marketplace, authorized resellers, or the Amazon website, and if it does, most likely are the fake version.
Anyway, always be extra vigilant when doing your online shopping research as chances there are many scams popped up online each time when there is a new hot product!
Is Java Burn a safe diet supplement to take?
As effective as claimed by the maker, Java Burn is made of 100% natural ingredients, suitable for vegans, gluten-free, and processed under a strict, sterile, and the US FDA-approved GMP facility in the US.
If you are in doubt, get a consultation with your healthcare expert.
What Are The Cons Of Java Burn?
Java Burn like any other supplements products in the market has NOT been evaluated by the FDA or has gone through any clinical trials to prove its claims. The best is to seek advice from your healthcare expert before making a purchase.
If you check on their official website, there is not much information about the company such as a contact number, but only the email address. I have been hovering around the site for some time and unless I'm blinded, I just couldn't find even a toll-free number, can you find it?
The maker also claimed Java Burn is the world's first 'patented pending' formula designed for weight loss. The proof of the patent application is currently not available to show on its website or anywhere that I could find on the internet.
---
My Final Thoughts on How Does Java Burn Fat Burner Coffee Work
Overall, looking at the 100% all-natural ingredients contents, I would say that Java Burn is considered safe to take as a choice of weight loss supplement.
It is indeed a metabolism booster and fat-burner powdered coffee supplement to speed up and stimulate the metabolism process.
However, what is the degree of truth of all the claims by the manufacturer? How questionable is that for you so far?
Looks like we need to depend on science to prove all of these claims.
You'll be the judge again and hope this review will give you at least some answers.
---
Advertisement!
Not into coffee-based fat burner boosters to lose weight? Try this tea-based formula fat burner available on the market now – Tea Burn!
---
Also, to ease your concerns on any dietary or weight loss supplements, do check out this link from the FTC. It gives you more informed resources.
As always, continue exercising and eat healthily at home for a healthier lifestyle.
Leave a comment below if you have and I will reply back within 24 hours.
Fantastic Exercise at Home.
***This post may contain affiliate links or advertisements. I receive a small commission when you make a purchase using the links. Prices are the same for you if your purchase is through an affiliate link or a non-affiliate link. You will not pay more by clicking through the link. Please see my Affiliate Disclaimer for more details.