Are you currently exercising with just your body weight or using any kind of gym equipment?
Have you ever thought about setting up a small little gym in your home?
Let's discuss the best affordable home gym equipment for beginners, how we set it up, and whether we can afford it or not.
Keep on reading.
How Can You Setup A Perfect Home Gym?
The concept is not complicated as we might think.
It is more like a place for you to perform varieties of exercises in one station at home.
Designed to fit in a spare room of your home, like the garage or the basement, so you can do your desired home exercises productively. A spare room that is not too crampy, easy to breathe, and looks comfortable is a good consideration.
A 10′ by 10′ room size looks great provided it is empty or uncluttered. Otherwise, you are only able to perform limited exercises maybe as push-ups, planks, or jump-rode.
The color of the room should be bright and clear like the white or light blue sky (if you like blue). It does make a difference when you are exercising as bright color gives you a sense of more motivation and positive energy.
Next, you may need a full-length mirror (large enough to see your whole body while exercising), do not lean but hang it on the wall.
Why? Hanging it gives you a non-distorted view of how you look. Also, the mirror is mainly for you to monitor your exercises, prevent any risk of injury and give you a sense of feedback as you make your progress.
---
'Weight loss by reducing stress and much more with these All-natural ingredients!
Read more on my honest Revitaa Pro Dietary Supplement Review
---
Ensure the lighting is right. I suggested using bright light LED bulbs from Philips as it consumes less energy and emits less heat than the classic lights.
What about a Portable sound system?
Great music or tunes help you energize during your workout session. A good remote speaker that is light around 2 pounds, with a Bluetooth range of 100 feet plus 360 degrees sounds moving all over the room.
Sounds great now, let's get ready for an awesome home fitness experience that you always wanted to do.
Is A Home Gym Worth The Money?
In my opinion, a lot of reasons why we can consider investing in a home gym.
Firstly, undoubtedly, saves you money a lot in the long run.
Why? No more paying for the gym membership out there.
Your membership will cost you hundreds of dollars, depending on the type of program you are enrolling in. For that amount of investment, if you do thorough research, you may get a piece of equipment for home exercise and have incredible same results too.
Save more time by traveling to and from your fitness center. Agreed?
Unless your fitness center is just a stone's throw away from your home, you are most likely will spend more time traveling for your fitness session. This time spent could have been used for home workout sessions.
While not all fitness center is available 24/7 a week, so if you have your gym equipment at home, do not worry about the closing time or fitness schedules.
All these worries will be cut out as your home gym is always ready for you whenever you are.
We know that not all fitness centers invest in good-quality machines. Thus, having your home gym machine suit your exercise need and ensure top-notch quality.
Besides, these top-notch machines also ensure durability (for long-term home fitness plans), safety, and performance.
So you see, quality home gym equipment gives you a seamless exercise experience at home.
One of the key factors in fitness is consistency. By having your variety of home gym equipment, the freedom to exercise is entirely on your hands, you can train whenever you want to achieve your fitness goal.
You don't have to worry about the post-Covid-19 pandemic. Workout at home with your gym equipment reduces the risks or chances of getting infected when you are outside.
Sounds great, isn't it?
7 Best 'Affordable' Home Gym Equipment For Beginners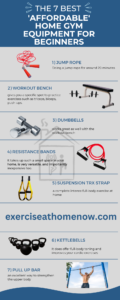 Every fitness expert will recommend the 1) jump rope.
Doing a jump rope for around 20 minutes works well for your heart and lung, burning calories and improving overall fitness.
You can use the gym mat for yoga or jumping. Depending on what type of exercise you are going to do on a gym mat, the latter one is mostly for more intense exercise. For the jumping exercise, you'll also need a space that allows plenty of movement.
How about 2) a workout bench or weight bench that gives you a specific spot to practice exercises such as triceps, biceps, push-ups, etc?
Using 3) dumbbells works great as well with the workout bench. Bench press with dumbbells works each side of your body more effectively (balancing work out for each side) than the barbell bench.
Another piece of home gym essentials is the 4) resistance bands. It takes up such a small space in your home, is very versatile, and importantly inexpensive too.
For other resistance training equipment, 5) a suspension TRX training strap gives you a complete intense full-body exercise at home. Helps to burn fat, improve flexibility and increase your endurance.
With the variety of resistance levels from light to heavy, it does challenge your fitness level. Ensure that you have an organized plan that covers all parts of your body.
6) A kettlebell is a good form of home exercise that helps your strength and cardiovascular fitness. It is very easy to tuck away when you are done with it. It does offer full-body toning and improves your cardio exercises.
Not to forget, the 7) pull-up bar. It is easy to attach to the door frame and needs only limited floor space. Pull-ups are an excellent way to strengthen the upper body and the more you practice, the faster the results will be.
Do consider any or all of these guys for a great workout at home.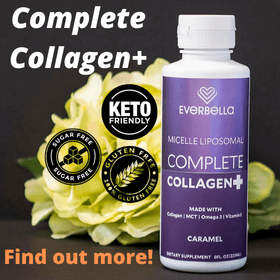 ---
The Best Home Fitness Machine For Weight Loss
These are the recommended home fitness equipment to begin your weight loss journey at home.
Treadmill. I'm sure everyone will like this. Even my late grandma loved it.
It is one of the most common and popular types of home gym equipment. An efficient aerobic workout and pretty straightforward. Good choice for those who wish to start a home fitness exercise routine as it fits well for all individual's fitness levels.
For cardio training, the indoor rowing machine is good. It is a low-impact workout and engages in all major muscle groups, high-burning calorie motion, and works on the legs too.
Exercise bikes, give you full control of your workout intensity, the more you put in, the more you get out. Good for a low-impact workout on the lower body. It is also a cardio workout and burns calories too.
Another increasingly popular piece of equipment is the rowing machine or also called an ergometer (shorter form as an 'erg') is targeting the major muscle groups of the body such as the arms, shoulders, upper back, quadriceps, hamstrings, and, glutes.
What about an elliptical machine? It is considered a weight-bearing machine which means core stability and coordination are needed to balance your workout movement without the risk of falling.
The ellipticals are great full-body workouts for burning calories up to 1,000 calories per hour, depending on the intensity level and a person's body weight.
So, which one would you choose as a starting point for home workouts? Perhaps a rower, an elliptical, or a stationary bike? 
---
My Overall Thoughts: 7 Best Affordable Home Gym Equipment For Beginners
In long run, I would say that investing in setting up your little home gym with some basic equipment is well worth it.
However, going to the fitness center is still as good as everyone does, so it entirely depends on your own opinions.
If the cost factor of having good fitness machines bother you quite a lot, the fact is that this investment will benefit you a lot in long run – save you both time and money.
---
Thinking also about Spa At Home during this pandemic?
Check my blog about Spa At Home Ideas
---
You can wear whatever you like and never be afraid of someone looking at your fitness outfit – weird or fashionable. There is no dress code to work out at your home.
I think the best is you can even encourage your family members or housemates to join you together. That's even more amazing.
Make a video of it if you like, and share it with the world, let's encourage the world to practice a healthier lifestyle at home. Who knows that you might become a fitness influencer on Youtube or Tiktok.
Home gyms are always available for you, anytime you want, the station is just there 'staring' at you, waiting for you to operate on them. Imagine that they are also happy that you are utilizing them for exercise in the most comfortable and personalized environment ever – your own Sweet Home!
Exercise is all about working on the part, not looking at it!
Do you see the logic now? Leave me a comment below and I will be back within 24 hours.
Fantastic Workout At Home!
***This post may contain affiliate links. I receive a small commission when you make a purchase using the links. Prices are the same for you if your purchase is through an affiliate link or a non-affiliate link. You will not pay more by clicking through the link. Please see my Affiliate Disclaimer for more details.