We all love snacks, especially when watching our favorite TV show.
It is something that almost all of us have been doing in between our regular meals.
We snack when there is great delicious food near us even when we are not hungry, lol.
If you are not aware, too many unhealthy high-calorie snacks could lead to weight gain or obesity?
What are the best low-calorie snacks to fill you up, even at late night?
We'll snack a little more here.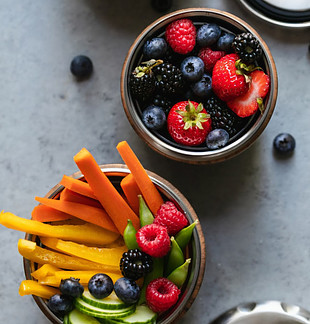 Why Are Snacks Not Good For Weight Loss?
High-calorie snacks are the answer especially if you are on a weight loss journey!
Other than that, you can eat but not too often.
High-calorie junk foods are very less in nutrients for the body and most are processed food and contains lots of preservative and other unhealthy substances to make the shelf life longer.
So if you are trying to kick out the extra pounds from your body, you should stay away from these:
1. Processed fruit juices (They mostly contain a high amount of non-natural sugar).
2. Potatoes chips, French fries. (You can make yours at home if you want).
3. Pastries, cookies, cakes.
4. Burgers, pizzas (I know it is tempting a lot but stay away from it!)
You certainly need to get low-calorie snacks if you are the person with a must-have snack before hitting the bed.
What Are The Best Snacks To Have If You Are Dieting?
My Top 10 picks for the best low-calorie snacks easily found or made by yourself at home.
I think they are delicious and healthy of course, to keep your waistline the shape that you wish for.
1. Popcorn. Why not? An ounce of air-popped popcorn will give you around 105 calories. It is the all-time family's favorite over the weekend. Toss it with some cayenne, melted unsalted butter, or garlic powder while the popcorns are still hot.
Nutrition facts: 1 cup (8g) gives you Cholesterol 0mg, Protein 1.0g, Carbs 6.2g, Fiber 1.2g, Starch 4.3g. More nutrients facts from the USDA link.
2. Edamame (young soybeans). A few cups of boiled and tendered edamame is just one simple cool way in aiding weight loss. You can add a pinch of salt and sesame oil for added taste.
Nutrition facts: 100g portion gives you Cholesterol 0mg, Protein 12g, Carbs 9g, Fiber 5.2g, Iron 2.27mg, high Potassium 436mg. More nutrients facts from the USDA link.
3. Low-fat Greek yogurt. We know this type of yogurt is high in protein. Just add a small teaspoon of natural honey into a half cup of Greek yogurt, the taste is like having an afternoon dessert! Or you can add a teaspoon of unsalted sunflower seeds to it too.
Nutrition facts: A 100g serving of Greek yogurt gives you Cholesterol 10mg, Protein close to 10g, Carbs 3.9g, Sugars 3.6g, Trans fat 0.1g, Calcium 115mg. More nutrients facts from the USDA link.
4. Roasted almonds. I like to eat them as snacks or after my regular gym session. They are super-rich in protein and carbs. Having 13 – 15 almonds for a snack will keep your hunger at bay.
Nutrition facts: A cup (143g) of almonds gives you Cholesterol 0mg, Protein 30g, Carbs 31g, Fiber 18g, high Potassium 1050mg, Calcium 385g, Magnesium 386g. More nutrients facts from the USDA link.
5. Blueberry Smoothie. For a soothing healthy drink, blend it well with Greek yogurt for more antioxidant effects. You can also try this simple smoothie recipe with spinach too. Using cranberry or strawberry is ok as well.
Nutrition facts: A cup (148g) of raw blueberries gives you Cholesterol 0mg, Protein 1.1g, Carbs 21.5g, Fiber 3.6g. More nutrients facts from the USDA link.
---
Advertisement ===>>>
Read more about the 3 Veggies that FIGHT Abdominal Fat
---
6. Green apple slices with peanut butter (unsalted). I like to use a green apple as it is tangier in taste (a Red apple is just fine if you like the sweeter taste). Two teaspoons of peanut butter are just good to spread on the apple slices.
Nutrition facts: A tablespoon (16g) of unsalted peanut butter gives you Cholesterol 0mg, Protein 3.84g, Carbs 3.5g, and Fiber 1.06g. More nutrients facts from the USDA link.
7. Pistachios. Riches in protein, fiber, and good unsaturated fat. Eating the roasted pistachios without salt is good.
Nutrition facts: A cup (123g) of raw pistachio nuts gives you Cholesterol 0mg, Protein 25g, Carbs 34g, Fiber 13g, high in Potassium 1250mg. More nutrients facts from the USDA link.
8. Hummus with carrot or celery sticks. This Middle Eastern hummus is gluten-free and contains a great source of fiber which helps to improve the digestive system.
Nutrition facts: A tablespoon (15g) of commercial-made hummus gives you Cholesterol 0mg, Protein 1.2g, Carbs 2.3g, and Fiber 0.83g. More nutrients facts from the USDA link.
9. Grapes. It is a great choice if you like readily fruits for snacks. A cup of grapes will make sure you have that fiber, Vitamin K, water, and, energy.
Nutrition facts: A cup (92g) of fresh grapes gives you Water 75g, Cholesterol 0mg, Protein 0.6g, Carbs 16g, and fiber 0.9g.  More nutrients facts from the USDA link.
10. Hard-boiled eggs. In the past, people have many misconceptions about the unhealthy (#Ad)eating of eggs. The fact is an egg has less than 100 calories, is a good source of protein, and contains mostly saturated fat in the non-cholesterol diet.
Nutrition facts: A large size egg (50g) gives you Cholesterol 186mg, Protein 6.3g, Carbs 0.4g, Fatty acids (monounsaturated) 1.83g.  More nutrients facts from the USDA link.
One more extra for a low-calorie snack,
11. Homemade mix nuts. I like to make this a lot, as it is just so simple to find them. A cup mix of roasted almonds, walnuts, cashews, and pistachios. You can add half a cup of each of the dried fruits like apricots, berries, and raisins together with the nuts. The nutrient value is unbelievable!
For more info on the food nutrients, visit the USDA Foods Data Central.
Can You Resist Having Snacks When On A Diet?
I don't think it is necessary.
Don't be too hard on yourself, just as long you are taking the right amount of healthy snacks between the usual meals is fine.
Yes, snacks are tempting but if you can train your brain on how to react to the delicious food in front of you, you can win the battle. Just keep telling yourself to stay focused and consistent with your goals, you are going to be fine.
If you still trying to resist, try to drink more plain water or eat a little more during your regular meals (don't eat fast, but eat slowly like you are enjoying every bite of it, and appreciating the food you are having)
My Conclusion: What Are The Low-Calorie Snacks To Fill You Up?
To me, having healthy low calorie snacks is fine just as long both your mind and body are in good control of each other.
Of all the snacks listed above, I mostly have the no.11 and just can't resist it once I started to slip it into my mouth lol.
Don't worry, the nutrient content is absolutely fine with my current weight which is considered healthy.
Besides, eating snacks is good than letting your stomach goes hungry, as this may lead to poor food choices and imbalanced (excess) calorie intake.
Just ensure that you are taking the right amounts and types of food, to prevent overeating or to reduce hunger.
Drop me a comment if you have and I will reply within 24 hours
Have A Fabulous Home Workout there!
***The links contained in this product review may result in a small commission if you opt to purchase the recommended product. Prices are the same for you if your purchase is through an affiliate link or a non-affiliate link. You will not pay more by clicking through the link. Please see my Affiliate Disclaimer for more details.