How about a quick healthy breakie for today?
Let's try these simple healthy blueberry breakfast recipes with oats and chia seeds.
Super yummy!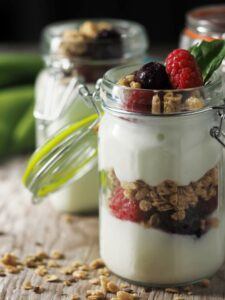 What Are The Ingredients?
Just very easy to find ingredients from the market.
You will need these:
*1/2 cup of rolled oats ( gluten-free oats can be used if necessary ).
*2/3 – 3/4 cup of Low Fat Milk.
*2 teaspoons of chia seeds [Ideally, stir well with water and soak overnight first. The ratio of Chia seeds to water ( 1 – 8 )].
*1/4 teaspoon of vanilla extract.
*1 tablespoon of almond butter.
*1-2 teaspoons of maple syrup, honey, or low-carb liquid sweetener.
*1/4 cup of fresh blueberries, plus more for toppings.
How To Prepare It?
Just two simple steps and you are done.
1. Add oats, milk, chia seeds, vanilla, and blueberries together in a jar, resealable container, or bowl.
2. Shake the jar or mix well with a spoon. Seal and chill in the fridge for at least four hours or overnight.
Note: You can also add raspberries if you like.
More recipe (SOURCE)
My Quick Nutrition Benefits For This Recipe
Well, there you have it, the easy-to-make breakie after your morning exercise at home.
Do you know that:
* Blueberries has a high level of anti-oxidant content that protects your body cells from those harmful radical roaming inside your body. It helps to prevent heart disease, regulate your blood sugar fight against urinary tract infections.
* Oats are high in fiber which is good for digestion, low-fat content that is good for healthy weight loss (#Ad) protects the heart from cardio-related diseases and lower cholesterol.
* Chia seeds help to keep your bones strong due to their high contents of magnesium, calcium and phosphorus that are needed for bones strength. Help your brain function better and improve cognition (#Ad) and keep your heart healthy by lowering blood pressure.
For more information on the health nutrients per serving, check it with the USDA's FoodData Central link.
Why not give it a try after you got to know some of the health benefits to your overall health in long term.
I'm sure you will gonna love this recipe.
Let me know in your comment below and will reply back within 24 hours.
Happy Exercise At Home!
***This post may contain affiliate links or advertisements. As an Amazon Associate, I earn from qualifying purchases. I receive a small commission when you make a purchase using the links. Prices are exactly the same for you if your purchase is through an affiliate link or a non-affiliate link. You will not pay more by clicking through to the link. Please see my Affiliate Disclaimer for more details.