Planning to spend more time at home?
Do you agree that you also need to pamper yourself at home, especially after a long tedious day?
At least for an hour or so.
How about creating a simple and affordable home spa day on your own? What Are The Best DIY Spa At Home Ideas?
Let's find out more.
An Overview Of Home Spa Day Concept
Who doesn't like to be pampered even just a little time?
Pampered here means a trip to your favorite spa – get a massage, manicure, or facial. This kind of treatment is considered special or rare, well, if you have some extra bucks to spend.
What about those who don't have that luxury to spend regularly? Hmm, this is when the concept of home spa rolls in.
There is no certain definition for the Home Spa, but the golden rule is any treatment that you can create for a perfect home spa that has benefits to your body, mind, and also spiritually. Treating yourself to a nice spa sometimes doesn't mean you have to leave your home.
I honestly think that there are many great ideas to make your home spa day. At least, after an exercise, where you wish to pamper your body – to get rejuvenated and refreshed.
Have a good quality time to exfoliate your skin while listening to your favorite relaxing music. Enjoying that special moment peacefully, is still considered a home spa treatment, isn't it?
A home spa has become increasingly popular for those who are on budget constraints for both men and women.
It is more like a spa-like experience at home.
So, what are the better ways or ideas for a relaxing home spa experience?
---
What Are The Essential Ingredients To Make A Home Spa? 
As mentioned earlier, you don't have to leave your home to pamper yourself for a spa treatment. Also, don't worry too much about not having some fancy or expensive skincare products.
Just so that you know, you can get these ingredients in your pantry.
Get ready with your favorite robe, slippers and dim the light with these suggested ingredients in the kitchen, for your spa day at home.
*Coffee scrub 
Great for a full-body scrub. You'll need 1/4 cup olive oil, 1/2 cup Coffee grounds, 1/2 cup granulated white sugar.
Mix well all the ingredients and apply the scrub all over your body, during shower time. The scrub act as an exfoliant to scrub away the dead skins, making your skin softer leaving your favorite aroma coffee on your skin.
*Essential oil scents
Good for mind healing and relaxation rituals.
Essential oils with natural scents such as lavender, chamomile, and peppermint can be very soothing when you inhale a bit or just put on your wrist for a longer-lasting effect.
The lavender scent is good for releasing tension and gives you a good night's sleep. Chamomile is said to help boost up your positive mood, while the peppermint scent gives you a sense of reenergizing.
*Facial steaming
I do this quite often at home. The warm steam helps to open up your pores, increase blood flow circulation plus loosen any build-up dirt in the skin.
All you need is a medium bowl with boiling water, a face towel, and a few drops of essential oil (if you like). Place your clean face around 5 – 10 inches from the water surface, close your eyes and relax (breath slowly in the scent from the oil) your face for about 10 minutes.
*Cold eyes compress
This is another simple home day spa idea that I like too. It is very classic and all you need is just sliced thin cucumber or two tea bags (both refrigerated).
Gently place it on your closed eyelids. Repeating this method regularly will help to reduce the panda puffy eyes as the cold compresses on the eyes makes you look refreshed!
*Honey-banana face mask
Another great home spa treatment you can do after a home exercise.
You will need a tablespoon of honey, one banana, and a few drops of lemon juice. These three ingredients have amazing benefits since banana is rich in potassium (good for hydrating the skin,) and vitamin C in lemon help for skin-brightening effect.
Use a fork to mash the banana and then mix it with the honey. Add a few drops of lemon juice into the mixture, then place it evenly on the face and leave the mask to rest for about 30 minutes. Rinse it well and pat dry.
In fact, there are many more simple home spa ideas that you can do.
However, these top five extracting ingredients from my pantry are my super favorite ones to do.
How about you? Which one that you prefer?
What Are The Good DIY Home Spa Day Ideas?
Unwinding during your home spa day can be very relaxing if you know how to make a simple one.
Below are some of my ideas if you would like to give them a try.
1. Himalayan Salt Lamp
This should be the last step before you end your spa day at home.
An authentic Himalayan Salt Lamp will have a cozy and bright color, with a little dim on some parts – not overly bright. The light is also uneven because the salt structure is uneven in its natural form. It is believed to *reduce asthma, act as an *energy booster, and help with *depression.
(*While this has not been scientifically well proven, it is suggested to get your health professional's advice. Results may vary from individual to individual)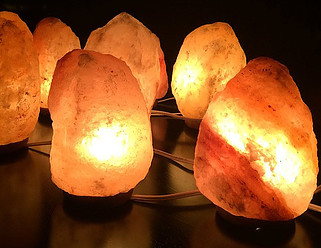 *Natural bath soak – What a great feeling to get pampered in this way on a bathtub (if you have one at home). Get nourished and soothe your body, lift your mood, and feel completely freshen up.
What to soak in the bathtub?
How about using Epsom salt (for relieving tension), essential oils (lavender, rose, chamomile, or, sandalwood) for calming your inner body,  Green tea (for reviving skin – fight the effect of the unhealthy environment and aging), or Roses (petals or water) for skin moisturizing and anti-inflammatory.
*Soy wax candle – Indulge yourself in some 'my own time' moment.
Dim the light, play some relaxing favorite music, close your eyes and appreciate that special moment, quietly with calmness. Soy wax is a green product and burns slower than other types of candle wax, so it lasts longer. Get those with scents like lavender, jasmine, or woody musk.
*Jade roller – Use this regularly, your skin will look more glowy and less puffy.
As they are often referred to as anti-aging tools, with the ability to stay cool even when it comes to contact with the skin. The roller is also good for blood circulation in the skin.
*Essential oil diffuser – a small and affordable one with a USB cable is great for your self-care time at home.
A soothing scent will make your spa day at home heavenly. In general, they are pretty safe to use – no major risk or harm. (Note: Kids, individuals with allergic reactions, or pregnant women, you may need to consult your doctor before using them)
Imagine, with a natural bath soak, a soy candle, and some relaxing music background, this is already a paradise spa at home, don't you agree?
So now let's discover a bit more if it is worth it to have your own spa at home.

---
What Are The Pros And Cons of Spa At Home?
While some people do not aware of the positive side associated with a home spa compared to the traditional ones, it entirely depends on each individual to decide which one is best to choose from.
You do not need to leave your home for a spa treatment. Sometimes you just need to be alone for a day from the outside world.
That's why the home spa is a great choice and saves you more time and money too.
Do you realize that you can also do your favorite spa as many times (replicate) as you want at home?
Just gather some simple supplies and follow that recipe, you are all set. Meanwhile, at the traditional spa, you can only do it once at a time or pay double for doing twice! Ouch, that's awful sometimes.
Inexpensive also for a DIY home spa. A spa can very expensive, especially for those personalized spa treatments. So, you can actually save a lot by creating your home spa within your safe place too. Sounds great?
Cleanliness factor. You know that your home is always clean.
So, you feel less worried because you know when is the last time the bathtub is cleaned or scrubbed. Hygiene is of utmost priority when visiting a spa center, and you may question also the overall cleanliness of the space.
---
Morning or Evening Exercise Works Best For You?
Find out more on my blog about Morning Vs Evening Workout
---
What about the cons?
Hmm, your home spa may not give you all the variety of treatments as compared to a traditional spa. Sometimes, you do need a professional therapist like for body scrub or massage, though it is quite costly but is rewarding in the end.
Distractions. For those with families and kids at home, tons of unfinished household chores, etc, that is why some of us like to visit a spa to get a quiet moment away – be away from all these distractions for a short day.
What if your bathtub is a bit too small?
Typically, a spa center has bigger and more comfortable tubs for people of all shapes and sizes. While comparing to ours at home, we may be leaving our legs or chest out of the depth of the water!
Do you think of all these matters to you a lot or some of these only? Why or why not?
---
My Overall Thoughts: What Are The Best DIY Spa At Home Ideas
You see, creating your spa at home is not difficult after all. It is possible and super easy.
You don't need to spend a lot to have one at home. Also, you can incorporate it together with your home exercise routine for a completely relaxing and soothing experience.
A home spa gives you a clearer and more focused mind, especially after a long day.
'It is NOT selfish to love yourself, to take care of yourself, and to make your happiness a priority. It's necessary – Mandy Hals'
I hope the ideas shared here will be useful and informative to you.
Leave me a comment below and be happy to reply within 24 hours.
Love Yourself and Fantastic Home Exercise!
***This post may contain affiliate links or advertisements. As an Amazon Associate, I earn from qualifying purchases. I receive a small commission when you make a purchase using the links. Prices are the same for you if your purchase is through an affiliate link or a non-affiliate link. You will not pay more by clicking through to the link. Please see my Affiliate Disclaimer for more details.